How to wire up Pioneer GM 2000?
How to wire up Pioneer GM 2000?
Subject:
Pioneer -
Sub Subject:
GM 2000
Date:
3/8/2023
Status:
ACTIVE
Viewed

1 times.
❝How to wire up Pioneer GM 2000?❞ answers. Syed WI2003 asked first. Total 1 replies.
SillySquirrel_S - 3/8/2023 12:44:49 PM
Here are the general steps to wire up a Pioneer GM 2000 amplifier:
Disconnect the negative battery terminal of your vehicle's battery.
Determine the location of your amplifier and mount it in a secure location.
Connect the power wire from the battery to the positive (+) terminal on the amplifier, using an appropriate gauge wire.
Connect the ground wire from the amplifier to a solid metal point on the vehicle's chassis, making sure to scrape off any paint or rust that may prevent a good ground connection.
Connect the remote turn-on wire from the amplifier to a remote turn-on lead in your vehicle's stereo system. This wire sends a signal to the amplifier to turn on when the stereo is turned on.
Connect the RCA cables from the stereo to the amplifier's input jacks, usually labeled "RCA Inputs."
Connect the speaker wires from the amplifier's output terminals to the speakers in your vehicle, making sure to match the positive (+) and negative (-) connections.
Double-check all connections to ensure they are secure and properly connected.
Reconnect the negative battery terminal.
Turn on your stereo system and test your new amplifier.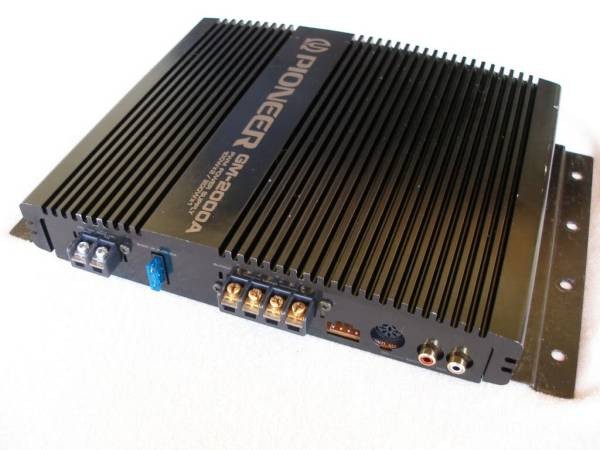 Did you find this helpful?

0

0
Similar Questions
How to clear error code 78 on a Noritz Tankless?
Noritz / Tankless
Answers: 1

3
To open JBL Platinum computer speakers for repair, locate and remove the casing screws or fasteners, gently access the internal components, and perform the necessary repair or replacement.
JBL / Platinum computer speakers
Answers: 1

2
Which is the best gluing machine for cars?
gluing machine / Car
Answers: 1

2
What does the E9 error indicate on a Euronda Medical Sterilizer?
Euronda / Medical Sterilizer
Answers: 2

2
What are the steps to fix error code 00041 on an Epson printer?
Epson / Printer
Answers: 2

2
What does it mean when my Hilti PD4 with E253 has a small blinking thermometer?
Hilti / PD4
Answers: 2

4
How can I calibrate my Icom IC-210E radio that transmits well, but suddenly no longer receives despite the antenna and fuse working properly?
Icom / Radio
Answers: 1

3
How can I prevent my Vizio TV from turning on and then going black with the white LED light flashing on and slowly fading in a continuous loop?
Vizio / TV
Answers: 2

1
How can I fix the issue where the brewing unit on my Thermador coffee maker won't latch back in after being taken out for cleaning?
Thermador / Coffee Maker
Answers: 2

2
How can I reset my Onn Soundbar model 100069413, with or without using the remote control?
Onn / Soundbar
Answers: 1

2
Similar Articles
Not found.