Tine Tiller Engine fails to start
Yardmax Dual Rotating Rear Tine Tiller YT4565 Engine fails to start. What do you think is the problem?
Subject:
Yardmax -
Sub Subject:
Tine Tiller
Date:
7/16/2019
Status:
ACTIVE
Viewed

48 times.
❝Tine Tiller Engine fails to start❞ answers. Askme asked first. Total 1 replies.
Askme - 7/16/2019 7:33:16 AM
Problem
Engine fails to start.
Cause
1. Spark plug wire is disconnected
2. Out of fuel or stale fuel
3. Engine and/or Fuel valve is not in
ON position
4. Choke lever is not in CLOSE position
5. Blocked fuel line
6. Fouled spark plug
7. Engine flooding
8. Belt tension lever is engaged
Remedy
1. Attach spark plug wire securely to spark plug
2. Fill with clean, fresh gasoline
3. Engine and Fuel valve must be in ON position
4. Choke level must be in CLOSE position for a cold start
5. Clean fuel line
6. Clean, adjust gap, or replace
7. Wait a few minutes to restart, but do not prime
8. Disengage the belt tension lever.
You can find detailed information about tine tiller troubleshooting here.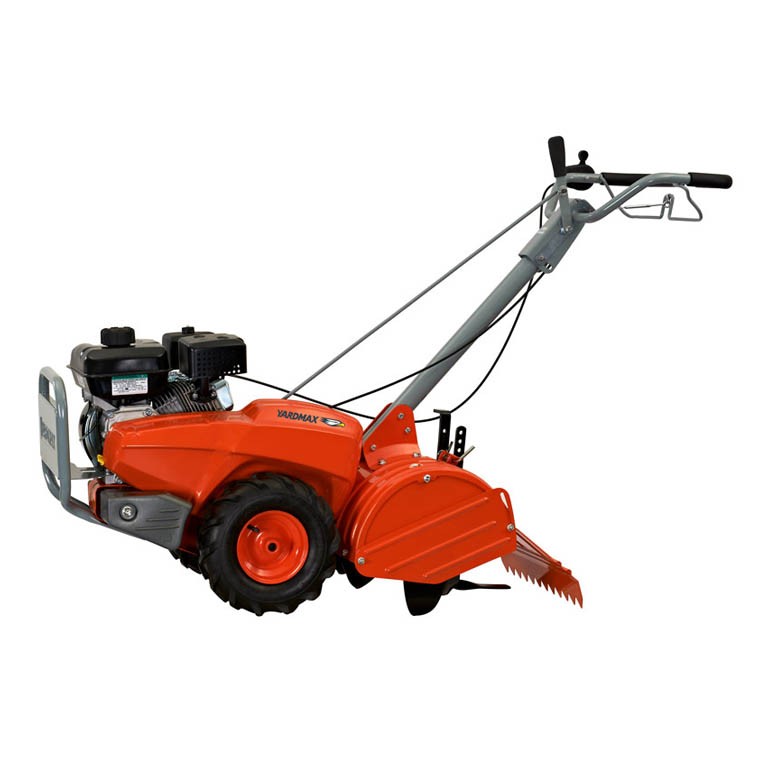 Did you find this helpful?

0

0
Similar Questions
PS5 Games Right now online buyable enjoy and best PlayStation 5 Games Get discovered best PS5 games. The top 10 games for PlayStation 5, The top 20 games for PlayStation 5, The top 30 games for PlayStation 5 and more games here
Games / PlayStation 5 (PS5)
Answers: 2

4
Will natural gas ever run out? Who is the largest exporter of LNG? What is difference between LPG and LNG? Can LNG replace LPG? What is the meaning of LNG gas? What is the use of LNG?
Natural Gas / Liquefied natural gas
Answers: 1

12
What is the best battery powered lawn mower; EVER STOP CUTTING. Up to 60 minutes of run time with 2 fully charged 2.0AH Battery Source: Greenworks 21-Inch 80V Lawn Mower 2.0AH battery and charger included. Front wheels: 7 Inch Brushless motors are more reliable and delivers gas equivalent perform
Greenworks / mower tractors
Answers: 6

20
How many different types of LEGOs are there; There are about 2,350 different elements in the LEGO range – plus 52 different LEGO colours. Each element may be sold in a wide variety of different colours and decorations, bringing the total number of active combinations to more than 7,000.
LEGO Toys / Star Wars Minifigures
Answers: 1

41
Does taking out the SIM card delete everything; Smartphones usually have at least two stores of memory: a SIM card, and the phone's internal memory. Many phones also have additional data stored on removable SD Card media. The SIM and SD cards had been removed from all the phones we purchased. But pe
Sim Card / Problems
Answers: 1

107
How do you make a beach chair in Minecraft? Minecraft Umbrella and Beach Chair
Minicraft / Beach Chair
Answers: 2

85
What is the best way to start potty training? When it's time to begin potty training, follow these steps
Baby / Potty Training
Answers: 1

2
How to clear, remove and manage cookies in Google Chrome? How do I clear my cookies Chrome? Can you clear cookies for one site Chrome?
Cookies / Google Chrome
Answers: 1

4
What are some good dog chew toys? What are the safest chew toys for dogs; Rubber Kongsare considered the go-to chew toy by many dog lovers, but the standard sizes are likely too big for little puppy mouths. Fortunately they also do some great small puppy chews. Puppy Kongs. The best-selling Puppy Ko
Dog / Chew Toys
Answers: 2

5
What are the popular toys for Christmas 2018? Experts Says These Are Going to Be the Hottest Toys This Holiday Season
Toys / Christmas Toys
Answers: 1

8
Similar Articles
Yardmax Dual Rotating Rear Tine Tiller YT4565 TroubleshootingProblemEngine fails to start.Cause1. Spark plug wire is disconnected2. Out of fuel or sta

166