How do I know when to change transmission fluid?
How do I know when to change transmission fluid? Promptly consult a mechanic if you notice any of the following symptoms in your vehicle that can indicate it's time for a transmission fluid change
Subject:
Auto -
Sub Subject:
Transmission Fluid
Date:
12/16/2019
Status:
ACTIVE
Viewed

3 times.
❝How do I know when to change transmission fluid?❞ answers. Askme asked first. Total 1 replies.
Askme - 12/16/2019 2:26:21 PM
Grinding or squealing noises while shifting:These noises aren't just annoying but indicative of a more serious problem beneath your hood. If you hear grinding or squealing, pull over as soon as possible and check your transmission oil or fluid level while the engine is still running. When you do, also note the color of the fluid. If it is anything other than bright red, you may need a transmission fluid change.
Shifting is difficult:Whether you drive a vehicle with an automatic or manual transmission, it still changes gears. If you have an automatic, you may notice that it shifts "harder", or at odd times that seem sooner or later than usual. With manual transmissions, it can be physically difficult to shift into position.
Inexplicable surging:Sometimes, when you need a transmission oil change due to dirty fluid, your vehicle may surge forward or backward as if you pressed the accelerator or brake for no apparent reason. This is due to contaminants in the fluid preventing consistent flow through the transmission system.
Gears slipping:When the transmission fluid or oil flow is interrupted by grit and grime within the system, it interferes with the pressure levels that keep the gears in place. This can cause your transmission to periodically slip out of gear without any warning.
Delay in movement after shifting:Occasionally, dirty transmission fluid can cause a delay in your car or truck moving after shifting gears, which is also related to fluid flow interruption. This delay may be only a moment or several seconds, and longer delays likely indicate greater contamination of your transmission oil.
How Do You Check Transmission Fluid?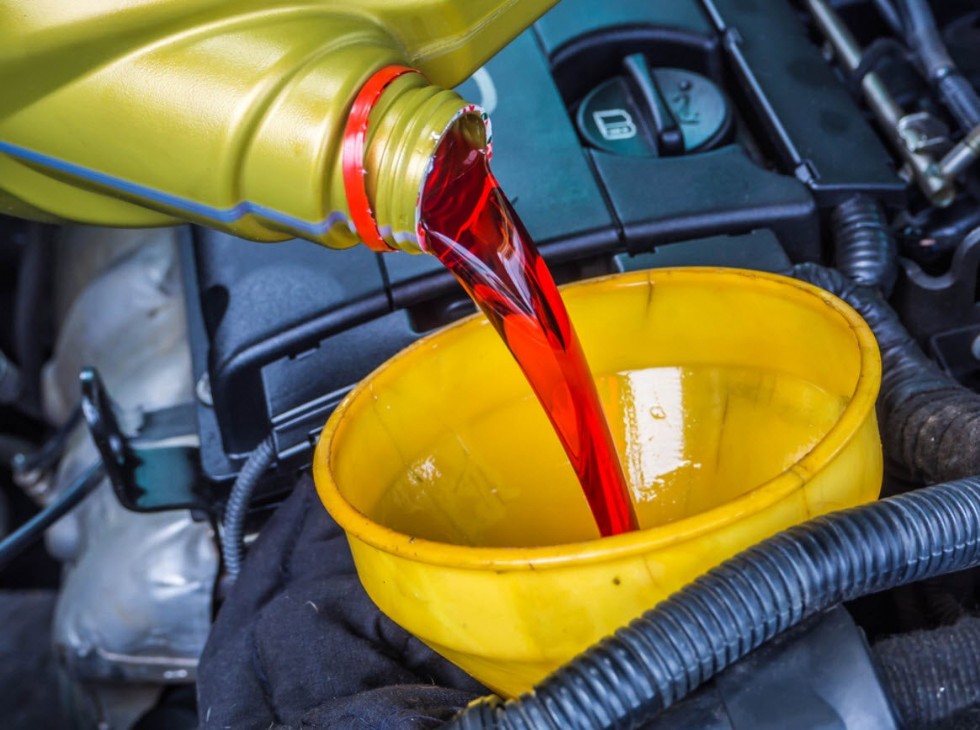 Auto / Transmission Fluid Changing your transmission fluid is essential for both components to function smoothly. If you truly want to get the maximum driving experience, your ride requires the right additive.
Did you find this helpful?

0

0
Similar Questions
How do I read the engine codes of my Ford cars? How do you read Ford engine codes? How would you peruse Ford motor codes?
Ford / Engine Code
Answers: 1

2
Is it worth replacing the batteries of hybrid vehicles with a limited lifespan? How long is the electric car battery life? Is it worth replacing hybrid battery?
Hybrid Car / Battery
Answers: 1

3
How do you remove a battery from a Ford Ranger; Open the hood and locate the battery. Unbolt the battery tie-down from the battery tray using a 3/8-inch ratchet and socket. Lift the replacement battery into the battery tray so that the terminals are oriented the same way as the original battery.
Ford / Ranger
Answers: 1

8
What is the difference between 2019 and 2020 Ford Ranger; There's a new FX2 package available in rear-wheel-drive models for 2020, and it adds some off-road-oriented features. There's also a bit of feature shuffling between the three Ranger trims. Otherwise, this Ford is unchanged from the 2019 mode
Ford / Ranger
Answers: 1

77
What year Ford Ranger doors are interchangeable; 1998 to 2012 are considered the same generation however there were some styling changes along the way as well as emission standard changes so not all parts will interchange between years. Best to stick to your year truck plus or minus a year or so.
Ford / Ranger
Answers: 1

54
How do I remove the antenna from my Ford Ranger; Grab an 8mm ratcheting wrench or small ratchet with an 8mm socket and remove the bolt and clip holding the antenna base on. You might be able to squeeze the metal retaining clip enough to pop the antenna base up and off the roof, but I couldn't get it
Ford / Ranger
Answers: 1

38
How often do you change the oil in a 2019 Ford Ranger; Your vehicle is equipped with the Intelligent Oil-Life Monitor system, which displays a message in the information display at the proper oil change interval. This interval may be up to one year or 10,000 mi (16,000 km).
Ford / Ranger
Answers: 1

40
How many quarts of oil does a Ford Focus 2.0 liter engine require; Pour in about 4 quarts of the Duratec 20 2.0L engine's 4.5 US quart (or 4.3L) total capacity for an oil change with filter replacement. It is far better to have less than enough oil in an engine than too much.
Ford / Focus
Answers: 1

8
How do you set a radio station in a Ford Focus; Choose your Source by pressing AM, FM or Sirius. Press Direct Tune. Enter the desired station or channel, and press Enter. Press a Preset Bank to add the station, and then press and hold one of the Memory Preset buttons to save it.
Ford / Focus
Answers: 1

7
What does battery discharge mean on BMW? Do you have to register a BMW battery; Many BMW owners call us about getting a "battery discharged" message on their dash. This is to alert you that your battery is getting low and the vehicle needs time to charge it before you shut the engine down again. Dri
Automotive / BMW 3 Series
Answers: 2

9
Similar Articles
Turkey domestic automobile was introduced.The domestic car brand launch will be held next year.Turkey's first domestic car initiative after the revolu

10
Ford FocusThe Ford Focus is a compact car (C-segment in Europe) manufactured by the Ford Motor Company and created under Alexander Trotman's Ford 2000

66
Ford Ranger Models History Ford Ranger is a nameplate that has been used on three distinct model lines of vehicles sold by Ford. The name originated i

89